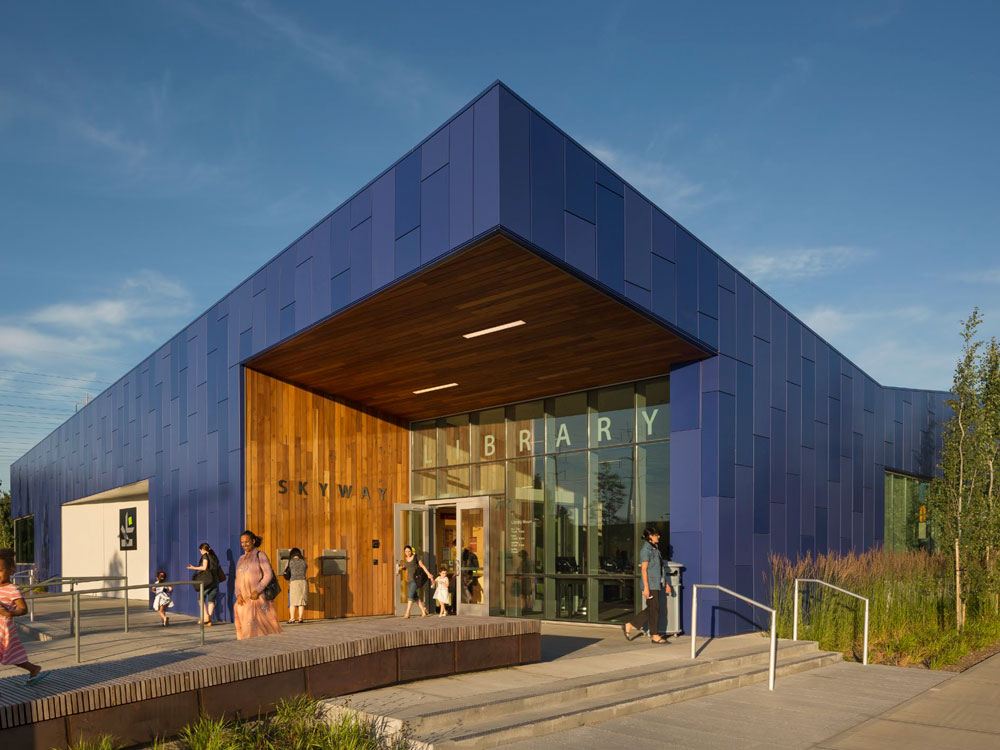 Core Design Team
Firm: BuildingWork and Weinstein A+U
Design Team: Matt Aalfs, AIA
Kate Weiland, AIA
Ed Weinstein, FAIA
Dave Aynardi, AIA
Consultants
Landscape Architect: Swift Company
Civil Engineer: Sitewise Design
Structural Engineer: Magnusson Klemencic Associates
Mechanical/Plumbing Engineer: Sider + Byers
Electrical Engineer: Travis Fitzmaurice & Associates
Lighting Design: Blanca Lighting Design
Interior Design: Robin Chell Design
Acoustic Consultant: SSA Acoustics
Specifications: Applied Building Information
Cost Estimator: The Robinson Company
Project Narrative
Skyway Library represents the first significant public investment in the Skyway community—an unincorporated, under-served neighborhood—in several decades. The library's design focuses on three opportunities: an oddly-shaped triangular site, community members' aspiration for an inspiring and dynamic public space, and the requirement for a generous and flexible building to serve both current and future needs.
As the site's existing surroundings did not provide strong visual cues to respond to, we looked at the social context for inspiration. Located in an unincorporated area between the cities of Seattle and Renton, Skyway is a low-income suburban community that lacks services, infrastructure, and investment. The neighborhood is home to a diverse population, many of whom have been excluded from Seattle's transforming economy or displaced by the city's rapid redevelopment. The community had no outdoor public space and safety was one of the major concerns vocalized throughout an extensive community outreach process.
Influenced by this process, the library's unusual shape responds to the site geometry, the program, and a desire for the building to become an icon for the community by "living larger" than an 8,000 sf single story library would require. The sculptural form is wrapped in a carefully detailed aluminum skin rendered in three subtly different shades of blue. The apparent color of the library shifts with the sun and clouds during the day and at dusk the building dematerializes into the indigo and purple hues of the transitioning evening sky. A public plaza with commissioned art, seating, and trees provides much-needed public gathering space. The plaza can expand into the curb-less parking area during special events such as farmer's markets and voter registration drives. A wide ramp and extended site stairs lead up to the library entrance, which is raised two feet above the busy street.
Inside the building patrons find an engaging and celebratory public space—the reading room—that is open, flexible, and filled with daylight. The upward-sloping long-span roof trusses lead to a 20' high window wall with views to Mt. Rainier. Spaced wood wall finish and perforated gypsum board ceilings absorb sound. An 8' diameter skylight oculus lined with color changing LEDs warms and enlivens the children's area. A surplus airplane tail wing from the nearby Boeing plant has been re-purposed as a communal study table. An access floor system delivers power, data, and conditioned air, allowing for future reconfigurations and providing a comfortable and energy efficient environment.
With a construction cost budget of $3,500,000, it was necessary to select design elements that would have the most impact with minimal cost. Priority was given to the building's exterior, using curtainwall, special metal panel siding, and dynamic forms to create a icon for the community. Inside, required elements such as lighting, carpet, and acoustically absorbent finishes were carefully sourced to do double duty to provide necessary function as well as color, pattern, interest, and texture in a bright, modern, and impactful building interior.
By providing welcoming and generous public spaces and advanced library services, the new Skyway Library is a catalyst for change in this neighborhood.