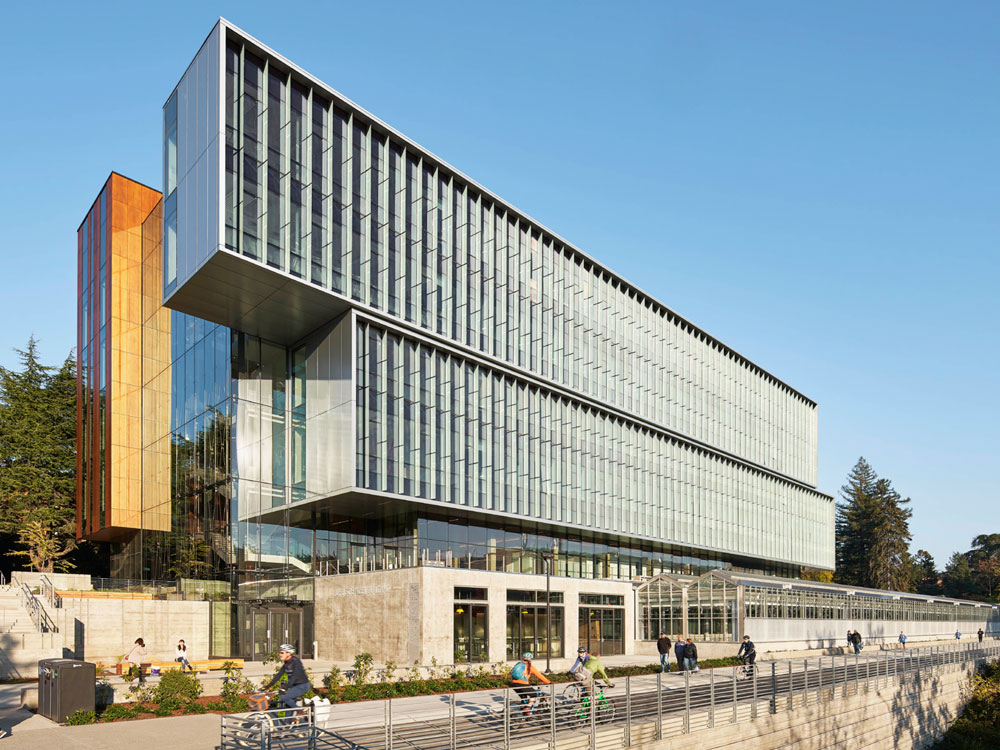 Core Design Team
Firm: Perkins and Will
Design Team: Anthony Gianopoulos, Managing Principal
Andy Clinch, Project Manager and Designer
Devin Kleiner, Project Architect
Alex Clinton, Lab Planner
Shanni Hanein, Designer
Sarah Thornquist, Interior Designer
Consultants
General Contractor: SKANSKA USA
Civil and Structural Engineer: Coughlin Porter Lundeen
Electrical, Mechanical, Plumbing Engineer: Affiliated Engineers, Inc.
Landscape Architect: Gustafson Guthrie Nichol Ltd
Lighting: Blanca Lighting Design
Greenhouse: Agritechnove Inc.
Project Narrative
The Department of Biology at the University of Washington (UW) sees over one third of all students enrolled at UW and is the largest STEM program in the state. In order to meet their growing demand, the 207,000 square foot Life Sciences Building (LSB) embodies three core concepts—Science is a Gateway, Connections, and Engagement—enhancing the building's relation to the campus, students, faculty, and environment. With these core values in mind, we designed a flexible, collaborative and highly sustainable building.
Ecotone
This next-level science facility creates an "eco-tone"—the region of transition between two biological communities—in both program and design where the technology behind the science intersects with the study of the natural world. The southern exterior is comprised of metal, glass, and energy producing solar fins to represent technology, while the northern exterior boasts natural wood to represent nature and visually connect the building to the treasured Deodar Cedar tree canopy lining this woodland path on campus. The ecotone converges at a six-story, 1,000 square-foot glass-box atrium that connects the south and north ends of the building.
Programming & Planning
The building houses 40 principal investigators and their teams where research labs, teaching labs, an active learning classroom, café, growth chambers and greenhouses holistically integrate their approach to life sciences in a space designed around creating a healthy collaborative environment.
The project's core concepts drove us to design technical teaching and research spaces that are open, flexible, and efficient, while allowing for additional informal collaboration and interaction spaces for students and faculty throughout the building. Flexible planning allowed for 18 more Principal Investigators than originally planned, while enabling endless views and ample natural light through the labs, offices, conference rooms and break spaces.
Creating Connections
Suspended inside the glass-box atrium is the feature stair, with oversized landings that encourage chance-encounters between scientists and students—fostering collaboration and providing natural ventilation cooling for public spaces. The high-tech glass system around the staircase seems to disappear as one looks out
to the public courtyard, a primary thoroughfare through campus with reclaimed wood benches tucked into the landscape as areas of respite for both students and passerby.
Science on Display
A primary goal was to place science and sustainability on display, making the building part of the education. The greenhouse research and renowned plant collection are steps away from the pedestrian trail, while unique plants from the Biology courses integrated into the cascading landscape near the west entrance. Photovoltaic fins on the southwest façade are a billboard for sustainable innovation—feeding real-time data to touchscreen dashboards in the entry lobby where students can compare energy generated by standard solar panels on the roof with the solar fins